Don't forget to write...
This article or a section of this article is in need of expansion. You can help the Prototype Wiki by expanding it.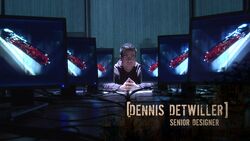 Dennis Detwiller (born July 12, 1972) is a computer game designer for Hothead Games as well as a role-playing game developer and artist.
Biography
Edit
Detwiller was a founding member of Pagan Publishing with John Tynes as art director where he co-created the Origins Award winning Delta Green in 1997 with Tynes and Adam Scott Glancy and illustrated the Origins Award winning "The Hills Rise Wild!"
He is known for his work in the collectible card game Magic: The Gathering, to which he was a regular contributor. He also participated in many other projects at Wizards of the Coast and was a shareholder.
In 2000 he left Pagan Publishing for Hobgoblynn Press with which he created Godlike: Superhero Roleplaying in a World on Fire, 1936–1946, published in 2001. After the release of Godlike in 2002 Detwiller founded Arc Dream Publishing with Shane Ivey. He has since worked on Godlike's follow up Wild Talents and the free horror setting game NEMESIS since then.
In 2002 he left Seattle for Vancouver to work with Radical Entertainment where he helped develop games such as; The Incredible Hulk: Ultimate Destruction, Scarface: The World is Yours and Prototype. In early 2009, he left Radical Entertainment for Hothead Games.
Role at Radical Entertainment
Edit
At Radical Entertainment Detwiller is most noted for his work on PROTOTYPE; Radical's first original Intellectual Property. Along with Tim Bennison and Eric Holmes, he helped create and launch PROTOTYPE from concept to production.
Responsibilities:
Story creation/script writing/character development
Backstory creation
Mission Scripting
Gameflow/continuity
Web of Intrigue Creation (nearly 150 movies comprising a huge conspiracy back story)
Game Credits
Edit
Prototype, (2009), Radical Entertainment
Scarface: The World is Yours, (2006), Radical Entertainment
Incredible Hulk: Ultimate Destruction, (2005), Radical Entertainment
Interestingly, Detwiller named the Blackwatch Scientist Shane Ivey after his good friend and fellow founder of Arc Dream Publishing.
External links
Edit
Ad blocker interference detected!
Wikia is a free-to-use site that makes money from advertising. We have a modified experience for viewers using ad blockers

Wikia is not accessible if you've made further modifications. Remove the custom ad blocker rule(s) and the page will load as expected.