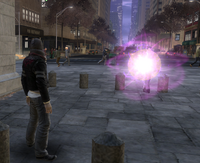 Hint Orbs are purple orbs scattered throughout the Manhattan, totaling 50.
Evolution points are awarded for every Orb obtained along with combat and minor gameplay hints. The EP awarded for each landmark collected increases for every 10 orbs collected.
Evolution Points
Edit
1 - 5,000 Each
10 - 7,500 each (+10,000 Bonus)
15 - 12,500 each (+25,000 Bonus)
35 - 15,000 each (+50,000 Bonus)
Ad blocker interference detected!
Wikia is a free-to-use site that makes money from advertising. We have a modified experience for viewers using ad blockers

Wikia is not accessible if you've made further modifications. Remove the custom ad blocker rule(s) and the page will load as expected.