Don't forget to write...
This article or a section of this article is in need of expansion. You can help the Prototype Wiki by expanding it.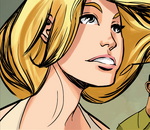 Marcie was an art student and one of the few survivors of the second outbreak on Manhattan Island.
After the second outbreak, Marcie was unable to escape the Red Zone. She soon came across Conrad, a former Policeman who was trying to get out of New York Zero. While trying to avoid Blackwatch, she took care of Ami Levin. The trio managed to get to the Yellow Zone with Conrad's help.
Ad blocker interference detected!
Wikia is a free-to-use site that makes money from advertising. We have a modified experience for viewers using ad blockers

Wikia is not accessible if you've made further modifications. Remove the custom ad blocker rule(s) and the page will load as expected.