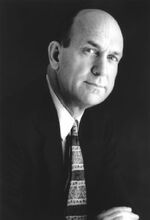 Richard Francis McGonagle (born October 22, 1946) is an American actor, appearing in an episode of Star Trek: The Next Generation and two episodes of Star Trek: Voyager. He has also provided voice for King Endrin Aeducan/Janar/Mines Commander/Orzammar Noble/Orzammar Commoner/Royal Palace Cook in Dragon Age: Origins.
He is known for voicing Ian Taggart in Prototype.
External Links
Edit
Ad blocker interference detected!
Wikia is a free-to-use site that makes money from advertising. We have a modified experience for viewers using ad blockers

Wikia is not accessible if you've made further modifications. Remove the custom ad blocker rule(s) and the page will load as expected.