"That was an order, Lieutenant"
―General Stillwell after killing two of Randall men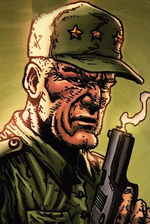 General Stillwell was part of the Biohazard Threat Unit, which was responsible for the control of Biological Warfare.[1]
Being part of Blackwatch, General Stillwell recruited Peter Randall while he served in Vietnam, in 1969. Randall and his unit were returning to their assigned evacuation point, where they met Stillwell.
When Stillwell told Randall to join him as he had been reassigned, Randall refused to do so until the surviving men on his team were returned to safety. Stillman however shot the soldiers and escorted Randall away.[1]
References
Edit
Ad blocker interference detected!
Wikia is a free-to-use site that makes money from advertising. We have a modified experience for viewers using ad blockers

Wikia is not accessible if you've made further modifications. Remove the custom ad blocker rule(s) and the page will load as expected.