Thermobaric Boomstick
Talk

0
500pages on
this wiki
Don't forget to write...
This article or a section of this article is in need of expansion. You can help the Prototype Wiki by expanding it.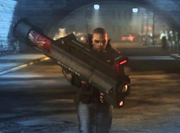 The Thermobaric Boomstick was a Blackwatch weapon based on a rocket launcher's design but capable of mass destruction. The explosion was similar to that of a thermobaric missile launched by a Thermobaric tank.
Thermobaric Boomstick is available on pre-order of the Blackwatch Collectors Edition of Prototype 2. It is now available for purchase in a pack in the Playstation Store.
The Explosion first causes a large vacuum and pulls everything around it into the epicenter then a cloud of rapid expanding gas pushes everything away. The after effect of the fire balls it most likely debris.
A horizontal pressure wave will still appear even if the Boomstick explodes in midair.
The Boomstick can kill a goliath in 4 shots.
The Boomstick suddenly disappears when dropped and cannot be picked up again.
Powers can be activated, but not used when the Boomstick is active. The exception to this is the Shield Power, where Heller hangs the Boomstick on his back to raise his Shields.