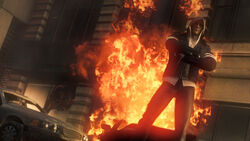 Hello Prototypers,
After a few weeks of silence, Radical has released another a "Developer diary" explaining the zone divisions. As most you might know, New York or as it's known now, New York Zero is split into three distinctive zones. The devs explain the reason behind this, although there is no gameplay displayed (not that we need any).
In other news, Radical has teamed up with TwitchGames. They've launched an iOS platform based application called ProtoSlice. As fun as this might be, make sure not to get sliced. Also, Radical have been around for 20 years as of 19/11/2011. And the army on Facebook has reached 350k.
Well enough of my ramble, watch the new video and post your thoughts..
Posted on 15:23, November 21, 2011 (UTC)
Ad blocker interference detected!
Wikia is a free-to-use site that makes money from advertising. We have a modified experience for viewers using ad blockers

Wikia is not accessible if you've made further modifications. Remove the custom ad blocker rule(s) and the page will load as expected.